DESCRIPTION AND MEANING:
This sheet represents some traditional Maori patterns, which can be used as armbands.
The grey colouring was chosen as they should not be filled with plain black, but the separate elements should be inked like it was done in the following image: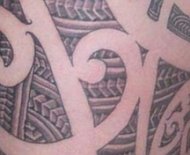 From top to bottom, the four motifs represent:
Mangotipi: white pointer shark (agility, resistence)
Ngaru: waves cut by the travelling waka (speed)
Mangopare: hammerhead shark (strength, power)
Patiki: flounder (hospitality)
permalink: //www.tattootribes.com/index.php?idinfo=410
WANNA KNOW MORE ABOUT THE SYMBOLS?
We have a site for that!
CHECK IT OUT >
And download the
FREE printable PDF cards of the symbols

!