DESCRIPTION AND MEANING:
The unalome is a symbol for finding enlightenment, representing the wandering and errors along the path to consciousness.
It ends in a straight line and often in a dot symbolizing light.
Agija requested an unalome with the shape of a swan to represent the beauty that exists in enlightenment.
This simpler version does not have the dot for the sun: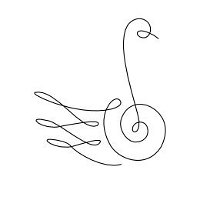 permalink: //www.tattootribes.com/index.php?idinfo=7863
The Polynesian Tattoo Handbook 1 & 2
by TattooTribes