DESCRIPTION AND MEANING:
This Polynesian full sleeve tattoo has been prepared for Giuliano and it represents three phases of his life, developing from past to present while going upward from the wrist to the shoulder.
The hammerhead shark symbolizes his fighting nature, always present through each period.
At the base, the moray eel, the thorns, and the row of flies represent the adversities that pushed him along a challenging path (the path of Kamehameha) faced with strength and determination (spearheads and centipedes), transforming the difficulties in teachings (the stones at the base).
In the second part, the compass shows the new direction to follow, which led him to a new vision of the world (the frigate) and a new beginning (the koru).
Birds symbolize this journey, the fishing hooks indicate prosperity and the flower of hibiscus is for carpe diem.
Spearheads, shark teeth and octopus tentacles indicate strength, tenacity and adaptability.
Tiki bring protection from every side.
The third part includes his closest friends and it centers around family (the turtle), which brings him harmony (the marquesan cross and the couple).
Flax leaves and braids indicate union, and the tiki protection.
Ancestors watch from above and coconut leaves symbolize prosperity, drawing a sun on top of the sleeve (eternity and joy).
The color legend below helps identifying the three parts of the tattoo and its main elements: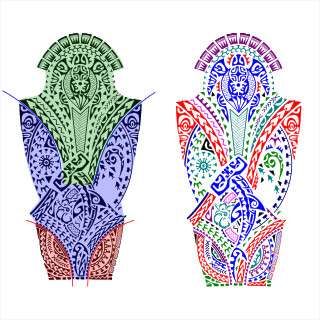 tags: 
full sleeve
,
hammerhead shark
,
tiki
,
compass
,
turtle
,
moray eel
,
path
,
coconut leaves
,
sun
,
spearheads
,
hibiscus
,
warrior
,
family
,
travel
,
route
,
union
,
prosperity
,
carpe diem
permalink: //www.tattootribes.com/index.php?idinfo=9678
WANNA KNOW MORE ABOUT THE SYMBOLS?
We have a site for that!
CHECK IT OUT >
And download the
FREE printable PDF cards of the symbols

!