DESCRIPTION AND MEANING:
This full sleeve tattoo is mostly Tahitian in style, but it also includes elements from other Polynesian traditions: Samoan, Marquesan, Maori and Hawaiian, as requested by Erin, for whom it was prepared.
The turtle at the base represents her family, whose members are all united by the braid.
Next to it, the people represent the extended family, who share with her the good (the sun) and the bad (the thorns and pain symbol).
The adze symbolizes the skills and strength that help her turn challenges into teachings (the stepping stones at the base).
The Samoan styled stripe along the path of Kamehameha includes symbols for prosperity, beauty and protection, with an all-seeing-eye in the center and a manaia (guardian angel) on one side for protection along the voyage.
The spearheads and the hammerhead shark are for tenacity and determination, the koru symbolizes new beginning, the lizard helps bringing health and good fortune, and the dolphin symbolizes playfulness.
The puhoro pattern that wraps the middle part represents tenaciously improving, achievement after achievement.
The path to knowledge is the key to access the upper part of the tattoo, where goals are set toward freedom (the manta with a Marquesan cross inside to symbolize harmony and balance).
Ancestors guard from above and the two tiki bring protection from all sides.
The colored legenda below shows the individual elements within the tattoo: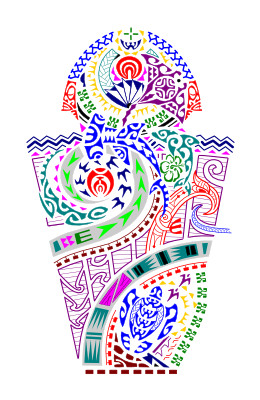 tags: 
sleeve
,
turtle
,
hammerhead
,
shark
,
manaia
,
manta
,
dolphin
,
puhoro
,
adze
,
family
,
union
,
prosperity
,
voyage
,
new beginning
,
protection
,
knowledge
,
tenacity
,
freedom
,
success
permalink: //www.tattootribes.com/index.php?idinfo=9543
WANNA KNOW MORE ABOUT THE SYMBOLS?
We have a site for that!
CHECK IT OUT >
And download the
FREE printable PDF cards of the symbols

!