DESCRIPTION AND MEANING:
The eye of Horus, or eye of Ra, is an ancient Egyptian symbol. Horus, the son of Isis and Osiris, fighting against his brother Seth who killed their father, lost an eye which was later reimplanted by Toth, god of magic. This symbolism recalls moon phases and sun cycles, and Horus´s eyes were in fact associated to the sun (male, the right eye) and to the moon (female, the left eye). The original eye of Horus is made of six parts, each one twice bigger than the other in size, representing the six senses, and is thought to help the dead during their passage to the life after death.
Requested by Charlie.
permalink: //www.tattootribes.com/index.php?idinfo=828
NEW!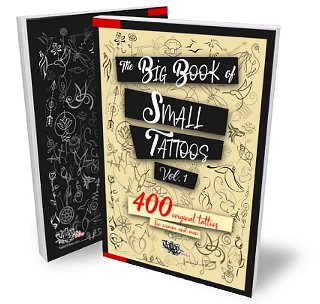 THE BIG BOOK OF SMALL TATTOOS
400+ small original tattoos for women and men
Whether you are approaching tattoos for the first time and want to start small, or you're a longtime fan and only have just that tiny little spot left, you will appreciate this book and its philosophy: small & meaningful.
Add color, and you'll have a design that is absolutely one of a kind and personal!


eBOOK:
$ 7.99
- PRINT:
$ 13.99
on Amazon!