DESCRIPTION AND MEANING:
The phoenix is a mythological creature that burns when old, to be born again from her own ashes.
That´s why it is a symbol of rebirth and resilience.
We prepared this small phoenix tattoo for Angel and we included several elements in it which have a special importance for her, like interlocked letters to symbolize union, a sun, a koru, a lotus flower, and a treble clef.
The colored legenda below shows the individual elements within the tattoo: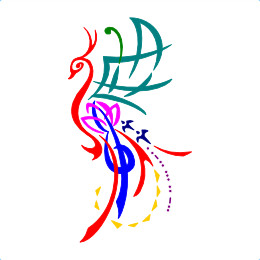 tags: 
phoenix
,
lettering
,
lotus flower
,
treble clef
,
chasing birds
,
sun
,
koru
,
rebirth
,
union
,
music
,
love
,
new life
,
support
permalink: //www.tattootribes.com/index.php?idinfo=9576
DO YOU LIKE SMALL TATTOOS?
You could get a FREE book!
Suggest a theme you'd like to see >
and if it gets in a new volume,
you get a FREE copy of it!