DESCRIPTION AND MEANING:
The main themes of this half-sleeve and pec tattoo designed for Nicola are the warrior, family, prosperity, and nature.
In the past, thorns and fa´atigipusa represent adversities, faced with determination and fighting spirit (spearheads, octopus tentacles and centipedes), turning every difficulty into a teaching (the stones at the base).
The warrior on the shoulder, with the canoe underneath, symbolizes the leader who provides for his family guaranteeing prosperity (the fish) and support (the chasing birds).
Sea shells on the sides are symbols of prosperity and status while the net is a symbol of abundance but also of community, for the importance of family and friends, who are present throughout the tattoo.
Pandanus flowers and leaves symbolize prosperity and ancestors, who keep guard and protect the family, represented by the flax leaves at the base and the birds on the chest.
Dots indicate importance, the fixed direction to always follow, and fish represent abundance.
The lo kahi symbol symbolizes the bond between men, nature and the spirit world and it depicts Nicola´s bond with nature. Ancestors are linked to this guiding us with their teachings.
Valleys and mountains are included as symbols of nature, as well as fish and birds, to have elements related to land, sea and sky.
The colored legenda below helps identifying the main elements of the tattoo: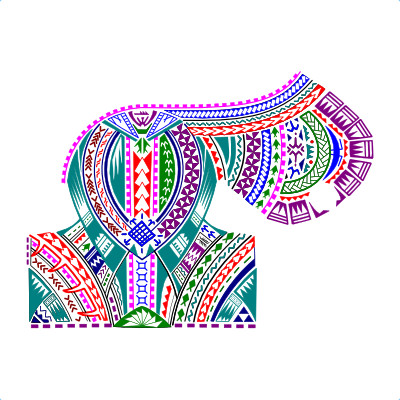 tags: 
half sleeve and pectoral
,
atoa
,
centipede
,
warrior
,
flax
,
mountains
,
stones
,
fish
,
tenacity
,
strength
,
determination
,
family
,
union
,
support
,
prosperity
permalink: //www.tattootribes.com/index.php?idinfo=9586
WANNA KNOW MORE ABOUT THE SYMBOLS?
We have a site for that!
CHECK IT OUT >
And download the
FREE printable PDF cards of the symbols

!