DESCRIPTION AND MEANING:
This symmetrical Polynesian half sleeve tattoo prepared for Jozef has a few different elements on the sides to symbolize a change from the past (where adversities and challenges are represented by the moray eel, the thorns, and the path of Kamehameha) to the future (where harmony, prosperity, and peace are: the Marquesan cross surrounded by a sun, the fish and fish hook, and the coconut palm leaf). The mere symbolizes respect, and the adze craftmanship.
The row of birds represents this voyage, which will bring independence (pito) and freedom (the manta on top).
The turtle in the center and the enata below represent two important elements in this voyage toward knowledge, which is then passed on to other people (the smaller enata below the net representing community and prosperity), helping them to achieve any goal (the stones at the base) and giving them a new foundation (kumu).
Spearheads symbolize strength and tenacity against any adversity (the opposing waves in the past, getting smaller each time) and generating new opportunities (the favorable waves in the future, getting bigger each time).
The steps of Mataora with the puhoro motif inside symbolize the steps to success, and the tenacity to achieve it.
The turtle is central for the importance of family, with the couple on the shell surrounded by braids (unity) and with 4 important people on the front flippers.
Ancestors above the turtle guard on the family, as do the two tiki on the sides.
The image below helps identifying the individual elements within the tattoo: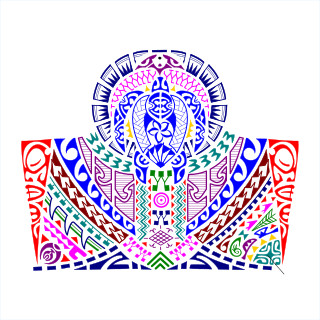 permalink: //www.tattootribes.com/index.php?idinfo=9777
WANNA KNOW MORE ABOUT THE SYMBOLS?
We have a site for that!
CHECK IT OUT >
And download the
FREE printable PDF cards of the symbols

!