DESCRIPTION AND MEANING:
All three turtles in this Polynesian tattoo prepared for Lorette share a braid, which is a symbol of family union, and each one includes a different letter (L, T, F) representing the name of one family member.
The upper turtle represents her, with shark teeth for strength and adaptability, and a warrior for the strength and courage to follow her path, represented by the row of birds followed by the turtles (voyage).
The frangipani flower is a symbol of femininity and safe shelter, also shared by the second turtle, representing her daughter, which also includes two chasing birds symbolizing that she is always there to help her loved ones, protected by a tiki like the third turtle, which represents her brother, who has the path to knowledge motif symbolizing his curiosity.
The koru in the background symbolizes a new start, shaped by mountains (stability) followed by waves (change) and finally mountains again (a new stability found) that also shape a sun (joy).
The image below helps identifying the individual elements within the tattoo: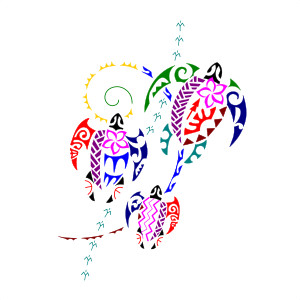 permalink: //www.tattootribes.com/index.php?idinfo=9782
WANNA KNOW MORE ABOUT THE SYMBOLS?
We have a site for that!
CHECK IT OUT >
And download the
FREE printable PDF cards of the symbols

!