DESCRIPTION AND MEANING:
Paola requested a very stylized small lotus flower.
We prepared a first version using a single line which draws the entire outline, and a second version slightly bolder but just as simple: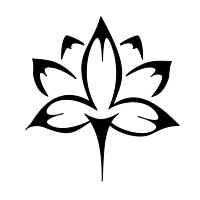 Lotus flowers symbolize overcoming all adversities and perfection, as they bloom immaculate above the muddy waters from which they are born.
permalink: //www.tattootribes.com/index.php?idinfo=9796
DO YOU LIKE SMALL TATTOOS?
You could get a FREE book!
Suggest a theme you'd like to see >
and if it gets in a new volume,
you get a FREE copy of it!