DESCRIPTION AND MEANING:
At the center of this Polynesian tattoo for the base of the neck prepared for Susanna, the Lo Kahi symbol indicates the balance between nature, men and spirits, represented by the three triangles.
The central blank part symbolizes the light shining through the darkness of creation.
The hibiscus flower symbolizes beauty, femininity and carpe diem, and on its sides we placed a hammerhead shark (tenacity, strength) and a lizard (good luck and health, seeing beyond reality).
The general design recalls a manta, a symbol of elegance and freedom.
The following image highlights the main elements of the tattoo: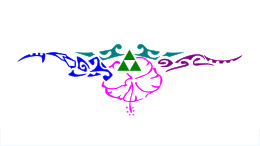 permalink: //www.tattootribes.com/index.php?idinfo=9762
WANNA KNOW MORE ABOUT THE SYMBOLS?
We have a site for that!
CHECK IT OUT >
And download the
FREE printable PDF cards of the symbols

!