DESCRIPTION AND MEANING:
The central turtle of this Polynesian half sleeve tattoo represents Jose and his wife (surrounded by a sun for joy and eternity), coming together after following two different but similar challenging paths (the identical two paths of Kamehameha around them).
The flower of hibiscus represents her beauty and femininity, with her initials included nearby as a maorigram, and it´s connected to the warrior by braids and flax leaves (family union), with chasing birds showing mutual support.
The two tiki on the front flippers protect their family, as does the manaia above the turtle, the guardian angel, with one daughter´s name as a maorigram written on its body.
The manaia protects the turtle and the turtle protects the manta ray (beauty, elegance and freedom) representing their other daughter (with a J maorigram included, and a dot nearby for importance).
Both turtle and manta swim towards a sun with a Marquesan cross inside symbolizing harmony and balance in the future.
The hammerhead shark at the bottom is a symbol of the warrior, of strength and tenacity.
On top, the ani ata motif that encircles the shoulder represents the ancestors guarding on the family and the mountains above are for stability.
The row of birds symbolizes voyages and watching the world from a higher perspective, while fish symbolize prosperity.
The colored image below helps identifying the main elements within the tattoo: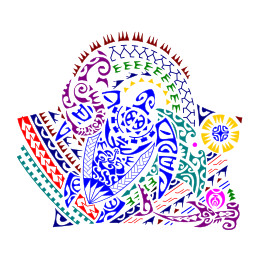 tags: 
half sleeve
,
manaia
,
turtle
,
manta
,
hammerhead shark
,
sun
,
tiki
,
maorigrams
,
lettering
,
birds
,
Marquesan cross
,
family
,
memory
,
daughters
,
protection
,
unity
,
joy
,
harmony
,
eternity
,
prosperity
permalink: //www.tattootribes.com/index.php?idinfo=10048
WANNA KNOW MORE ABOUT THE SYMBOLS?
We have a site for that!
CHECK IT OUT >
And download the
FREE printable PDF cards of the symbols

!