DESCRIPTION AND MEANING:
These small bracelets go around the two ankles and tell the story of Giorgia, starting from the difficulties (the thorns and the opposing waves), on to a rebirth (the koru) that brings freedom (the manta) and balance (the marquesan cross).
The frigate and the flight of the albatross (the black line) symbolize this journey full of trials (the path of Kamehameha), protected by the manaia.
On the front of the foot we placed the symbol of the couple, with an octopus tentacle and spearheads nearby as symbols of strength and tenacity.
On the other foot the sun indicates joy and eternity in this new journey with clear goals (the stars) and waves in favour.
The birds symbolize the journey and watching the world from a higher perspective, and the fish are for the prosperity achieved.
The colored image below highlights the main elements within the tattoo: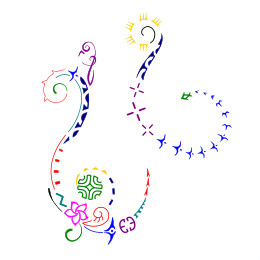 permalink: //www.tattootribes.com/index.php?idinfo=10122
WANNA KNOW MORE ABOUT THE SYMBOLS?
We have a site for that!
CHECK IT OUT >
And download the
FREE printable PDF cards of the symbols

!