DESCRIPTION AND MEANING:
The central top part of this Samoan tattoo for the shoulder is dedicated to family and family union: flax leaves are central, with parents and other ancestors on the back of the shoulder, and with coconut leaves for prosperity.
Two people are on the front part, with manulua (union of two families), braid (unity) and centipedes (fighting spirit) nearby.
Shark teeth are for adaptability and strength, and the coconut bud is for prosperity, while octopus tentacles and spearheads surround the top to symbolize the warrior protecting family.
Below this upper part, the bigger bird in front of others represents a leader guiding his people and the centipede represents the warrior, the fighting spirit to face any challenge.
The all-seeing eye at the base is a protection symbols to keep enemies at bay.
On the sides, there are the friends and people that Alexandre met in his life, with ancestors at the base.
The black lines, or aso (rafters), both small and wider, tie all parts together like the rafters of a house, representing the connection to ancestors and protection.
The colored image below shows the main elements within the tattoo: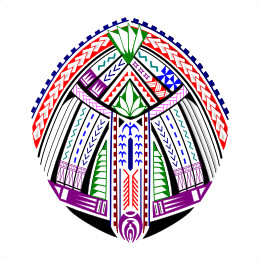 tags: 
leader
,
rafters
,
aso
,
braid
,
people
,
manulua
,
birds
,
shark teeth
,
centipede
,
all-seeing eye
,
warrior
,
coconut
,
family
,
house
,
protection
,
prosperity
,
fighting spirit
,
union
,
voyage
,
samoan
permalink: //www.tattootribes.com/index.php?idinfo=10204
WANNA KNOW MORE ABOUT THE SYMBOLS?
We have a site for that!
CHECK IT OUT >
And download the
FREE printable PDF cards of the symbols

!