DESCRIPTION AND MEANING:
This Polynesian half sleeve tattoo is about Angad´s life and it was designed to incorporate three ideograms he already had on his bicep.
He is represented at the base of the tattoo supporting his friends and colleagues thanks to what he learnt and achieved (the stepping stones), which he transfers to them (the rows of people going upwards toward joy and success as they follow the path to knowledge) giving them a new perspective upon life (the frigate bird).
This path shall be followed with tenacity and adaptability, as represented by the hammerhead shark and spearheads above the ahuahu o Mataora (it symbolizes the steps taken along a challenging path, and it is also a symbol for physical preparedness and sportsmanship).
The puhoro motif symbolizes this voyage toward excellence (the sun), like the row of birds and the flight of the albatross, while shark teeth are for strength and adaptability.
The lizard symbolizes good luck and health while the central turtle symbolizes the importance of family, protected on all sides by the two tiki on the front flippers, with braids and flax leaves for family unity and a star for importance.
Coconut leaves, fish and mountains around the top symbolize prosperity and stability, while the mere is a symbol of respect and status representing a leader.
The colored legenda below shows the main elements within the tattoo: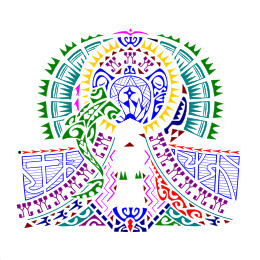 tags: 
coach
,
enata
,
turtle
,
lizard
,
hammerhead shark
,
tiki
,
sun
,
people
,
birds
,
ahuahu o Mataora
,
frigate
,
path to knowledge
,
coconut leaves
,
stones
,
leader
,
family
,
union
,
teaching
,
tenacity
,
strength
,
success
,
prosperity
permalink: //www.tattootribes.com/index.php?idinfo=10225
WANNA KNOW MORE ABOUT THE SYMBOLS?
We have a site for that!
CHECK IT OUT >
And download the
FREE printable PDF cards of the symbols

!