DESCRIPTION AND MEANING:
The main elements in this Aztec styled design are the flower of morning glory, the sacred mushroom, the snake (here shaped like the stem of the flower) and the star.
The morning glory is a flower that symbolizes friendship, affection, the central idea here, represented by the star.
The mushroom was sacred to Aztecs who used it to see beyond appearences, and it symbolizes freedom and voyage.
The snake is a symbol of renewal and it represents continuous change and evolution.
Requested by Gosia.
permalink: //www.tattootribes.com/index.php?idinfo=1058
NEW!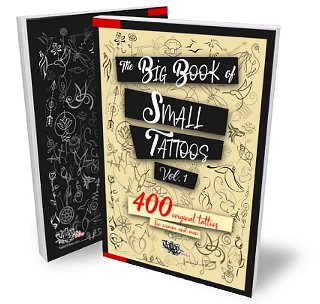 THE BIG BOOK OF SMALL TATTOOS
400+ small original tattoos for women and men
Whether you are approaching tattoos for the first time and want to start small, or you're a longtime fan and only have just that tiny little spot left, you will appreciate this book and its philosophy: small & meaningful.
Add color, and you'll have a design that is absolutely one of a kind and personal!


eBOOK:
$ 7.99
- PRINT:
$ 13.99
on Amazon!