DESCRIPTION AND MEANING:
Carlene requested a heart to join her headletter C with the initials of her daughters, A and A, decorated by their birth flowers. The two As are placed on the sides of the C, embracing it and being completed by it. The flowers associated to her daughters are daisy and honeysuckle, whilst the ipomea, or morning glory, is associated to Carlene. The ivy leaves added to the tattoo symbolize attachment, faithful love and tenacity.
permalink: //www.tattootribes.com/index.php?idinfo=3865
NEW!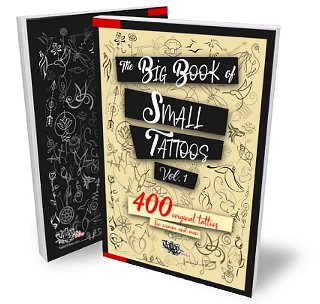 THE BIG BOOK OF SMALL TATTOOS
400+ small original tattoos for women and men
Whether you are approaching tattoos for the first time and want to start small, or you're a longtime fan and only have just that tiny little spot left, you will appreciate this book and its philosophy: small & meaningful.
Add color, and you'll have a design that is absolutely one of a kind and personal!


eBOOK:
$ 7.99
- PRINT:
$ 13.99
on Amazon!