DESCRIPTION AND MEANING:
According to Christian beliefs, "In the beginning it was the word". Not much unlike this, at the basis of Induist religion we find the aum, or om, the founding mantra of existence, the primitive sound from which everything was generated.
The Celtic triskell symbolizes eternity, through birth, death and rebirth, and the balance between elements.
That´s why their union represents well the idea of essence, of timeless unity and wholeness.
Requested by Francesca.
permalink: //www.tattootribes.com/index.php?idinfo=1534
NEW!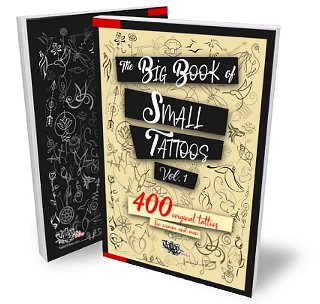 THE BIG BOOK OF SMALL TATTOOS
400+ small original tattoos for women and men
Whether you are approaching tattoos for the first time and want to start small, or you're a longtime fan and only have just that tiny little spot left, you will appreciate this book and its philosophy: small & meaningful.
Add color, and you'll have a design that is absolutely one of a kind and personal!


eBOOK:
$ 7.99
- PRINT:
$ 13.99
on Amazon!