DESCRIPTION AND MEANING:
The Yin and Yang symbol represents unity of every thing and balance of opposites: good and bad, light and darkness, hot and cold, masculine and feminine...
The different coloured spot in the middle of the two halves symbolize that there is no absolute characteristic, separated from the rest, but that every thing has a part of its opposite too in it.
In this tribal version inspired by a request from Edgar we joined water and fire by using waves and the sun.
permalink: //www.tattootribes.com/index.php?idinfo=2215
NEW!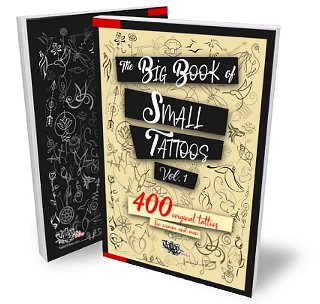 THE BIG BOOK OF SMALL TATTOOS
400+ small original tattoos for women and men
Whether you are approaching tattoos for the first time and want to start small, or you're a longtime fan and only have just that tiny little spot left, you will appreciate this book and its philosophy: small & meaningful.
Add color, and you'll have a design that is absolutely one of a kind and personal!


eBOOK:
$ 7.99
- PRINT:
$ 13.99
on Amazon!