DESCRIPTION AND MEANING:
The word "mantra" means "protection of the mind". Mantras do not have a real power themselves, but they can help accessing a different level of consciousness.
The most famous mantra is probably "Om mani padme hum", formed by the union of six sacred syllabes, connected to the six Buddhas acting on the six paths.
Ana requested a lotus flower formed by this mantra.
We ordered the words counterclock-wise, starting from the centre and expanding towards the outside, as shown in the small legenda in the image.
permalink: //www.tattootribes.com/index.php?idinfo=2299
NEW!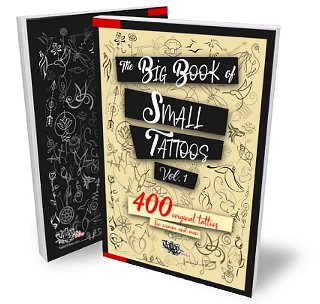 THE BIG BOOK OF SMALL TATTOOS
400+ small original tattoos for women and men
Whether you are approaching tattoos for the first time and want to start small, or you're a longtime fan and only have just that tiny little spot left, you will appreciate this book and its philosophy: small & meaningful.
Add color, and you'll have a design that is absolutely one of a kind and personal!


eBOOK:
$ 7.99
- PRINT:
$ 13.99
on Amazon!