DESCRIPTION AND MEANING:
The lotus flower is a symbol of perfection. As the enlightened man passes undisturbed through life, according to Buddhism, the same happens to the lotus, that grows pure over the muddy water it blooms out of. Like the rose, the lotus too has different meanings according to its colour.
Thomas requested an Aztec-styled lotus flower.
We could read this design like this: perfection is reached by overpassing individual limits by the union with the whole.
permalink: //www.tattootribes.com/index.php?idinfo=331
NEW!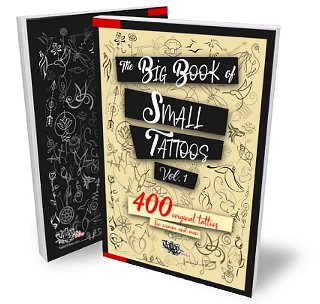 THE BIG BOOK OF SMALL TATTOOS
400+ small original tattoos for women and men
Whether you are approaching tattoos for the first time and want to start small, or you're a longtime fan and only have just that tiny little spot left, you will appreciate this book and its philosophy: small & meaningful.
Add color, and you'll have a design that is absolutely one of a kind and personal!


eBOOK:
$ 7.99
- PRINT:
$ 13.99
on Amazon!