DESCRIPTION AND MEANING:
Ferruccio requested us a tattoo to symbolize friendship, with two F letters inside. We tapped into two very distant cultures, yet very close on some accounts: African and Maori.
The symbol itself, redesigned in a Maori fashion, is an Ashanti symbol called "Ese ne tekrema" which means "the teeth and the tongue", and just like both teeth and tongue are necessary to talk and eat, the same way two friends can be very close.
The two Fs have been derived from theinner motif. The original version can be seen here.
Available without F letters too: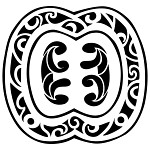 permalink: //www.tattootribes.com/index.php?idinfo=492
WANNA KNOW MORE ABOUT THE SYMBOLS?
We have a site for that!
CHECK IT OUT >
And download the
FREE printable PDF cards of the symbols

!