DESCRIPTION AND MEANING:
The sun represents eternity: day after day it raises and sets in a neverending loop.The sun is the source of life, a symbol usually associated to a male connotation, that is often used to symbolize the joy of living too.
This elliptical sun inspired by Maori designs was requested by Mattia. We thought of adding a circle of stylized shark teeth and a central filling styled on korus to put the stress on the generating strength of the sun.
The filling of the inner parts would be optimal if styled like this: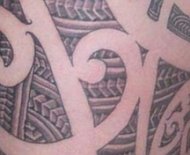 permalink: //www.tattootribes.com/index.php?idinfo=584
The Polynesian Tattoo Handbook 1 & 2
by TattooTribes