DESCRIPTION AND MEANING:
This Polynesian tattoo for the calf contains elements related to the story of Simone, for whom it was prepared, and of the team he shares adventures and successes with.
We placed a turtle in the center because it is a symbol of travel and family and it nicely symbolizes the journey they are taking together as a group (the braids that indicate union), almost like a family. Maorigrams are incorporated on the shell, around a Marquesan cross (symbol of harmony) and a braid (symbol of union).
In front of the turtle, the Kamehameha´s trail represents the challenges along the way to their goal (the star), faced with strength and courage (spearheads) to achieve stability and success (the mountains and the sun formed by shark teeth).
The two pairs of birds that follow each other represent the help and support always granted to the loved ones.
An enata under the turtle represents Simone, supporting the team and giving it knowledge (the stones, which also indicate the goals achieved).
The other enata, the all-seeing eye, and the tiki on the right front flipper of the turtle bring protection.
The hammerhead shark symbolizes tenacity and determination.
The following image helps identifying the individual symbols within the tattoo, the full meanings of which have only been disclosed to Simone: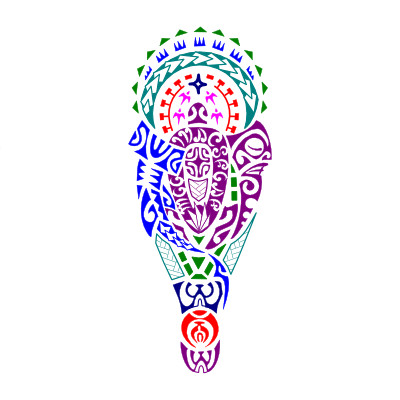 tags: 
Turtle
,
braids
,
maorigrams
,
Marquesian cross
,
Kamehameha´s path
,
star
,
spearheads
,
mountains
,
sun
,
shark teeth
,
chasing birds
,
enata
,
stones
,
tiki
,
hammerhead shark
,
journey
,
family
,
harmony
,
union
,
strength
,
courage
,
stability
,
success
,
help
,
protection
,
tenacity
,
determina
permalink: //www.tattootribes.com/index.php?idinfo=9478
WANNA KNOW MORE ABOUT THE SYMBOLS?
We have a site for that!
CHECK IT OUT >
And download the
FREE printable PDF cards of the symbols

!