DESCRIPTION AND MEANING:
To prepare this shark tattoo for Lucy we used mainly Polynesian elements, with a bit of Arabic styled ones for the back fin and for the turtle´s front flippers, in the shark tail.
There are koru in the head and fins of the shark for birth and new beginning, and the hammerhead shark motif is included between the fins (tenacity, determination).
The body is made of spearheads (warrior, strength) and the tail contains a turtle and ends with a snowdrop flower.
The colored legenda below shows the individual elements within the shark: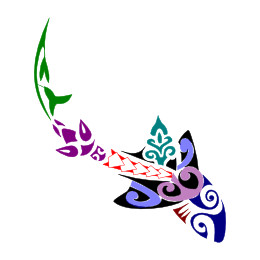 permalink: //www.tattootribes.com/index.php?idinfo=9514
WANNA KNOW MORE ABOUT THE SYMBOLS?
We have a site for that!
CHECK IT OUT >
And download the
FREE printable PDF cards of the symbols

!