DESCRIPTION AND MEANING:
The main element in this Polynesian legband tattoo designed for Peter is a manta symbolizing freedom and beauty, which fills the whole upper part of the design, with a turtle in its center to represent family.
The row of birds symbolizes voyage and freedom and it splits into two paths to represent two possibilities, one leading to the path of Kamehameha (a challenging path) and the other one spiraling toward the turtle (family) surrounded by a sun (joy and eternity), with a dot inside the flax leaves to symbolize its importance.
The two tiki on the sides protect him and his family.
A lizard is next to the left one for good luck while a hammerhead shark is near the right one for strength and tenacity.
Fish are for prosperity while the upper and lower rows of shark teeth are for adaptability, strength and protection.
The colored legenda below shows the individual elements within the tattoo: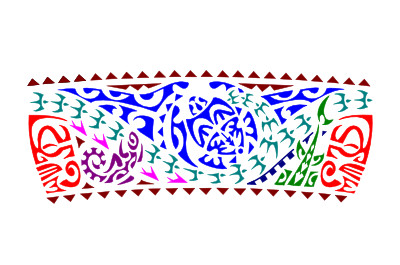 permalink: //www.tattootribes.com/index.php?idinfo=9567
WANNA KNOW MORE ABOUT THE SYMBOLS?
We have a site for that!
CHECK IT OUT >
And download the
FREE printable PDF cards of the symbols

!