DESCRIPTION AND MEANING:
This Polynesian legband tattoo prepared for Simon has many meanings represented, despite its simple looks.
The tiki that shapes the sun in the middle divides the legband into two parts that relate to two different areas: family and work.
The turtle symbolizes family, with the couple on the shell holding and protecting the initial of their daughter, and with other members represented by stylized letters on the front flippers.
The braid symbolizes family union, with ancestors and the flight of the albatross next to it (a long voyage with safe return).
On the other side, the hammerhead shark symbolizes tenacity and determination needed to face every challenge constantly improving (the ahuahu o Mataora) toward success and joy (the central sun).
Shark teeth are for adaptability and protection, and fish for prosperity.
The hibiscus on top represents "carpe diem", and the stylized frigate below it symbolizes a higher perspective.
The colored image below helps identifying the main elements within the tattoo: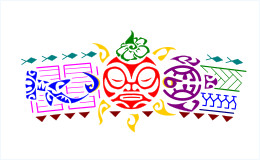 permalink: //www.tattootribes.com/index.php?idinfo=9807
WANNA KNOW MORE ABOUT THE SYMBOLS?
We have a site for that!
CHECK IT OUT >
And download the
FREE printable PDF cards of the symbols

!