DESCRIPTION AND MEANING:
We have prepared this tattoo of a lotus flower for Giulia, to represent the union between her and her children.
The lotus flower is a symbol of perfection and overcoming adversities, and its petals shape here a moon and an infinity sign surrounded by three stars, and with the three initials G+A+V below that make intertwined ivy branches to symbolize union.
The colors in the below legend show the letters inside the tattoo: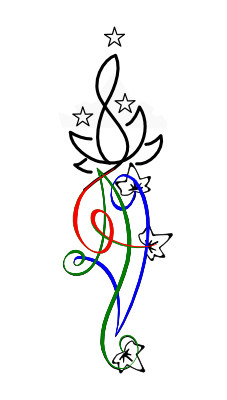 permalink: //www.tattootribes.com/index.php?idinfo=9666
DO YOU LIKE SMALL TATTOOS?
You could get a FREE book!
Suggest a theme you'd like to see >
and if it gets in a new volume,
you get a FREE copy of it!