DESCRIPTION AND MEANING:
This Polynesian tattoo of a gecko was prepared for Marko and it includes the names of his daughters and wife disguised within the right legs and next to the couple that shapes the head of the gecko.
The moray eel represents a problem that is now kept away by the tiki and the gecko itself.
The chasing birds symbolize help and support always granted to the loved ones, the frigate bird symbolizes a new perspective upon the world, and flax leaves represent family unity.
A shark shapes the tail of the gecko, with symbols for tenacity, strength, and adaptability needed along the path of Kamehameha (a challenging path) to find freedom (the stylized manta) and prosperity (the fish hook).
The colored image below helps identifying the indivudual elements within the tattoo: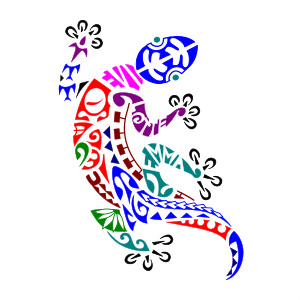 tags: 
gecko
,
shark
,
birds
,
tiki
,
moray eel
,
names
,
lettering
,
flax leaves
,
waves
,
family
,
unity
,
daughters
,
protection
,
tenacity
,
adaptability
,
new perspective
permalink: //www.tattootribes.com/index.php?idinfo=9850
WANNA KNOW MORE ABOUT THE SYMBOLS?
We have a site for that!
CHECK IT OUT >
And download the
FREE printable PDF cards of the symbols

!