DESCRIPTION AND MEANING:
Despite its small size, this Polynesian tattoo of a gecko prepared for Rebecca includes several meanings, the main one being family union, with the gecko itself primarily symbolizing health.
A couple symbol shapes the front legs of the gecko, while the initials of their children make the back legs of the gecko to symbolize how family rests upon all four of them.
The chasing birds in the middle symbolize support always granted to the loved ones.
The tiki eye and the sun shaped by mountains in the head of the gecko symbolize joy and stability through every change (the waves), while the tail of the gecko incorporates people and ancestors with a braid to show the union with the extended family and with friends.
The colored image below helps identifying the indivudual elements within the tattoo: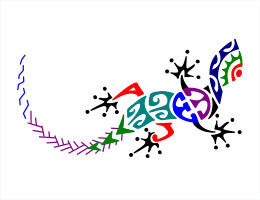 permalink: //www.tattootribes.com/index.php?idinfo=9917
WANNA KNOW MORE ABOUT THE SYMBOLS?
We have a site for that!
CHECK IT OUT >
And download the
FREE printable PDF cards of the symbols

!