DESCRIPTION AND MEANING:
The manta is an elegant creature often used to symbolize freedom and beauty.
The frangipani flower in this feminine tattoo designed for the hand of Pavla represents beauty too, as well as femininity, while the frigate is for voyages and watching the world from a higher perspective.
Tiki and tiki hands are for protection, and shark teeth for adaptability and protection in water.
The sun made of mountains was added to symbolize joy, the koru represents life and new beginnings, and the fish hook prosperity.
The colored image below helps identifying the main elements within the tattoo: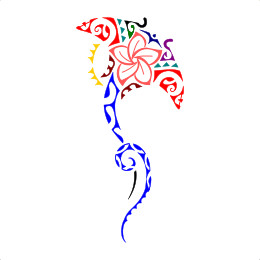 tags: 
manta
,
waves
,
frangipani
,
flower
,
bird
,
tiki
,
hand
,
koru
,
water
,
fish hook
,
freedom
,
beauty
,
femininity
,
protection
,
prosperity
,
new beginning
permalink: //www.tattootribes.com/index.php?idinfo=10071
WANNA KNOW MORE ABOUT THE SYMBOLS?
We have a site for that!
CHECK IT OUT >
And download the
FREE printable PDF cards of the symbols

!