DESCRIPTION AND MEANING:
This calf band Polynesian style tattoo was prepared for Noel to represent his passion for obstacle races, and it includes some elements that are important for him, like the triskell and the infinity knot.
The triskell is shaped by a lizard (good luck and also crawling), a hammerhead shark (tenacity, determination and swimming) and a sun (success) with a scorpion for passion.
It has the infinity knot below, and the path of Kamehameha along the bottom, with stepping stones nearby to symbolize a challenging path and the achievements that came with it.
Stepping stones are also along the top, with shark teeth for adaptability and strength.
The ahuahu o Mataora motif is symbolic of a challenging path that takes him each time higher, with physical strength and skills.
The row of birds represents voyages and the spearheads are for the warrior.
The warrior face includes a manaia, and we added symbols like the octopus tentacle (tenacity and adaptability) and fish (prosperity).
The Spartan helmet includes symbols like the valley (solitude) and the braid (unity) because it´s a challenge that can be faced in a team but is above all a way to test oneself and challenge one´s own limits.
The colored image below shows the main elements within the tattoo: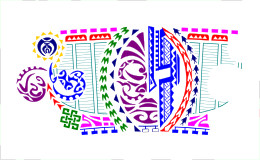 tags: 
spartan
,
warrior
,
triskell
,
infinity knot
,
manaia
,
sun
,
lizard
,
hammerhead shark
,
spearheads
,
Mataora
,
shark teeth
,
strength
,
courage
,
fighting spirit
,
challenge
,
adaptability
,
tenacity
,
success
,
joy
,
protection
permalink: //www.tattootribes.com/index.php?idinfo=10209
WANNA KNOW MORE ABOUT THE SYMBOLS?
We have a site for that!
CHECK IT OUT >
And download the
FREE printable PDF cards of the symbols

!