DESCRIPTION AND MEANING:
Linh had this wrist band tattoo on his arm and wanted to extend it onto the shoulder in a way that it would look like a single piece.
We changed a few existing elements in order to break the previous straight edge of the band, allowing for a more natural integration that disguises the initial shape making the joint invisible, and then went from there with the new part.
We placed a manta on the upper part of the shoulder to represent beauty, freedom and voyage.
The all-seeing eye in front of the manta symbolizes protection from all evil, and the star on the front of the arm symbolizes a person who is dear to the gods.
The fern leaf, which extends an existing koru, symbolizes adultness and maturity while the stylized coconut leaves are for prosperity.
The waves on the back represent changes, faced with tenacity and adaptability (the octopus tentacle).
The colored image below shows the structure of the old and new parts and helps identifying the individual elements within the extension: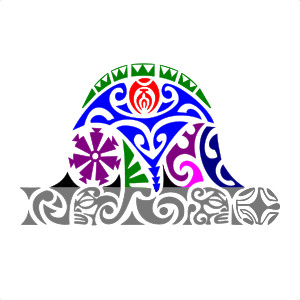 tags: 
band
,
sleeve
,
tiki
,
all-seeing eye
,
manta
,
koru
,
fern
,
coconut leaves
,
fish hook
,
waves
,
star
,
flower
,
protection
,
freedom
,
beauty
,
voyage
,
tenacity
,
change
,
prosperity
permalink: //www.tattootribes.com/index.php?idinfo=9957
WANNA KNOW MORE ABOUT THE SYMBOLS?
We have a site for that!
CHECK IT OUT >
And download the
FREE printable PDF cards of the symbols

!