DESCRIPTION AND MEANING:
The main element of this Polynesian calf band tattoo designed for Alessandro is the manta ray, accompanied by a hammerhead shark and a gecko joining on the back of the calf.
The manta ray symbolizes freedom, the hammerhead shark represents the warrior, tenacity, and determination, and the gecko signifies health.
Within the manta ray, centrally placed, are the couple, with flax leaves symbolizing unity, a fixed point, and tiki hands on the sides for protection.
Other elements include shark teeth (adaptability and strength), the flight of the albatross and the waves (long journey and safe return), coconut leaves (prosperity, also appearing beneath the sun), and a frigate bird atop everything, beneath the lokahi, symbolizing a different perspective on the world and harmony with nature.
The checkered pattern and braids above the manta symbolize love, passion, and unity as fundamental elements above all.
The hammerhead shark incorporates spear heads for the warrior, and the row of birds symbolizes a journey that leads away from family and friends (the rows of people remaining below the manta ray and moving away to the sides).
The centipede is a symbol of fighting spirit that strives to achieve its goals, the sun above represents joy and success, and it is protected by the all-seeing eye while fish symbolize prosperity.
The ahuahu o Mataora pattern symbolizes a path full of challenges that leads higher and higher.
The path of knowledge is at the foundation, along with the stepping stones, because it is the basis of all of Alessandro´s successes and it is close to the rows of people indicating what he has learned from meeting with different cultures.
The two tiki figures protect this journey from every direction.
The color image below highlights the main elements within the tattoo: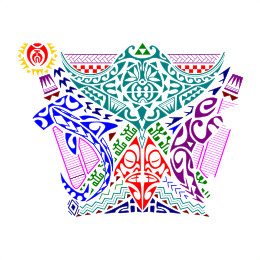 permalink: //www.tattootribes.com/index.php?idinfo=10242
WANNA KNOW MORE ABOUT THE SYMBOLS?
We have a site for that!
CHECK IT OUT >
And download the
FREE printable PDF cards of the symbols

!