DESCRIPTION AND MEANING:
Salamanders are amphibians, from a Greek word which means "life on both sides"; they are born in the water and live on the land, which explains why they´re associated to transformation.
In ancient times the salamander was thought to live in fire, another element of transformation, hence the idea that salamanders could use the energy of the elements.
Antonia asked for a Art Nouveau styled salamander.
We used some leaves to replicated the patterns of the skin of salamanders.
Also available in a more stylized and simplified version.
permalink: //www.tattootribes.com/index.php?idinfo=2110
NEW!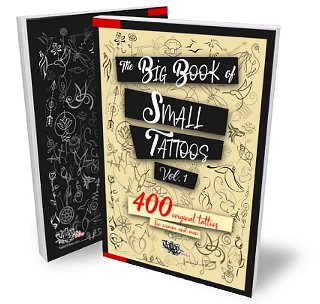 THE BIG BOOK OF SMALL TATTOOS
400+ small original tattoos for women and men
Whether you are approaching tattoos for the first time and want to start small, or you're a longtime fan and only have just that tiny little spot left, you will appreciate this book and its philosophy: small & meaningful.
Add color, and you'll have a design that is absolutely one of a kind and personal!


eBOOK:
$ 7.99
- PRINT:
$ 13.99
on Amazon!