DESCRIPTION AND MEANING:
In astrology, Saturn represents limits, karma, the father, and depending on its position at the moment of birth, the trials that a person will have to face in their lives.
This stylized tribal version was requested by Patrizia.
A curiosity: again in astrology Saturn rules delays and responsibilities, and it is said that "Saturn delays but does not deny".
permalink: //www.tattootribes.com/index.php?idinfo=2582
NEW!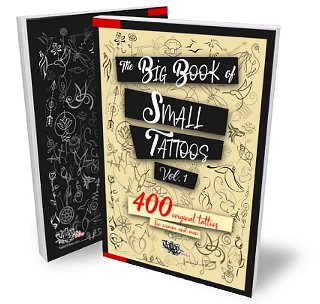 THE BIG BOOK OF SMALL TATTOOS
400+ small original tattoos for women and men
Whether you are approaching tattoos for the first time and want to start small, or you're a longtime fan and only have just that tiny little spot left, you will appreciate this book and its philosophy: small & meaningful.
Add color, and you'll have a design that is absolutely one of a kind and personal!


eBOOK:
$ 7.99
- PRINT:
$ 13.99
on Amazon!