DESCRIPTION AND MEANING:
Becky requested a tattoo that would represent passion in its wider meaning: love for all that we do, involvement, motivation and strength. Instead of chosing a specific design, we tried to represent the idea: passion is something burning, that grows deep inside our inner self and then spreads out in everything that we do. Passion is what makes us shine like suns, and burns every obstacle down.
Chinese tradition associates meanings to numbers: 9 indicates long lasting, and the double 9 represents something eternal. This stylized sun has 9 rays, all doubled, as a wish that passion will always burn without ever dousing, in everything that we do.
The colour red is a symbol of luck and wealth in the East, and having passion and enthusiasm is probably our greatest richness.
permalink: //www.tattootribes.com/index.php?idinfo=506
NEW!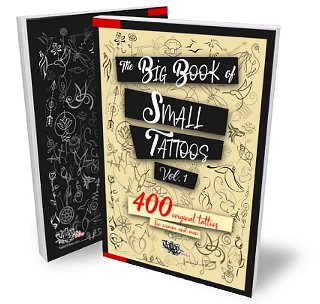 THE BIG BOOK OF SMALL TATTOOS
400+ small original tattoos for women and men
Whether you are approaching tattoos for the first time and want to start small, or you're a longtime fan and only have just that tiny little spot left, you will appreciate this book and its philosophy: small & meaningful.
Add color, and you'll have a design that is absolutely one of a kind and personal!


eBOOK:
$ 7.99
- PRINT:
$ 13.99
on Amazon!