DESCRIPTION AND MEANING:
This manta ray tattoo was designed for Tommy´s throat and it is centered around his family and children, with two frangipani flowers for his daughters (beauty and safe shelter) and a hammerhead shark motif for his son (tenacity, determination).
The central couple reresents Tommy and his wife protecting them.
There are also three tiki, two on the sides and one central below the family.
Shark teeth are for protection, strength and adaptability.
The star in front of the couple, between waves, represents the importance of family as a fixed point among all changes, with braids for unity.
The rafters that shape the manta symbolize community and they give strength to the family, while the ancestors (ani ata, steps of the ancestors, and pandanus flowers for tradition and roots) form the base of the tattoo.
The spearheads represent the warrior.
The image below highlights the individual elements within the tattoo: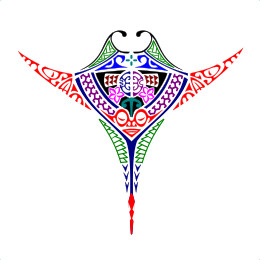 permalink: //www.tattootribes.com/index.php?idinfo=9731
WANNA KNOW MORE ABOUT THE SYMBOLS?
We have a site for that!
CHECK IT OUT >
And download the
FREE printable PDF cards of the symbols

!