DESCRIPTION AND MEANING:
This extended half sleeve tattoo was prepared for Victor and it includes a hammerhead shark on the shoulder blade (past), a manta on the shoulder (present), and a turtle on the pec (future).
The hammerhead shark represents the warrior who faced adversities (the thorns, path of Kamehameha, and moray eels) with strength, tenacity, and adaptability (spearheads, shark teeth, and octopus tentacles) to follow the path of knowledge that took him to new achievements and to success (stepping stones at the base and sun on top).
The manta symbolizes freedom, and the bird in it is to represent a higher perspective upon life.
The all-seeing eye, the lizard within the manta, and the two tiki looking in opposite directions bring protection.
The turtle has a Marquesan cross to define it as a source of harmony; flax leaves and the braid around the turtle are symbols of family unity, and we placed a man, a woman, and two children on the shell around the cross to represent the members of the family.
The fish hooks on the front flippers and the coconut leaves around the turtle are symbols of prosperity, while the two small chasing birds below the cross symbolize support always granted to the loved ones.
The opposing waves (difficulties) start big in the past and become smaller and smaller into the future, to symbolize victory over them, and the path becoming easier.
The ahuahu o Mataora represents the steps along a difficult path of self improvement, and the puhoro motif in it symbolizes this voyage, like the row of birds and the flight of the albatross.
The colored image below shows the main elements within the tattoo: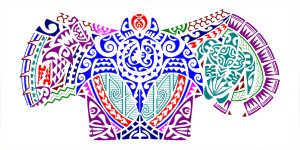 tags: 
halfsleeve
,
hammerhead shark
,
manta
,
turtle
,
lizard
,
tiki
,
birds
,
all-seeing eye
,
braid
,
coconut
,
fish hook
,
waves
,
path
,
voyage
,
family
,
support
,
prosperity
,
success
,
freedom
,
strength
,
protection
,
union
,
tenacity
permalink: //www.tattootribes.com/index.php?idinfo=10156
WANNA KNOW MORE ABOUT THE SYMBOLS?
We have a site for that!
CHECK IT OUT >
And download the
FREE printable PDF cards of the symbols

!