DESCRIPTION AND MEANING:
This manta tattoo designed for David includes a turtle in its center to symbolize the importance of family for him.
It has the symbol of the couple in it for the union between him and his wife (with braids and flax leaves around them for family unity). It is surrounded by a sun made of mountains for stability, joy, and eternity.
The zigzag symbols on the front flippers are people and they represent the extended family.
The dot on the flax leaves shows its importance and the koru on the sides of the turtle´s head symbolize new life.
Mountains and waves represent his love for them, while the canoe symbolizes adventure.
The frigate bird and the row of birds symbolize voyages, and fish prosperity.
The two tiki on the wings give protection from all sides.
Other elements are an octopus tentacle (tenacity and adaptability), a frangipani (to recall the Polynesian islands) and a lizard (health and good luck).
The two chasing birds and the net symbolize help and caring for the people (represented nearby), while the tail made of spearheads symbolizes the warrior who fights for them, strength, and tenacity.
The colored image below shows the main elements within the tattoo: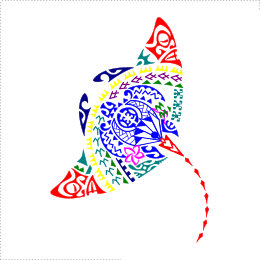 permalink: //www.tattootribes.com/index.php?idinfo=10174
WANNA KNOW MORE ABOUT THE SYMBOLS?
We have a site for that!
CHECK IT OUT >
And download the
FREE printable PDF cards of the symbols

!