DESCRIPTION AND MEANING:
David requested this couple of mantas for himself and for his wife, to symbolize their union and their individuality through small differences, the main one being the presence of a lizard in his design (good luck, powers, communication) which is replaced by a cat in hers (flexibility, mistery).
The manta symbolizes freedom, protection and elegance, here with the tail made of a row of spear heads (strength, the warrior); the fish hook symbolizes prosperity, the sun is for positivity and eternity, energy. Inside the sun, inheriting its characteristics, there is a traditional symbol representing marriage, spouse and bride. The rays are made of mountains (stability) and shark teeth (adaptability).
Waves are for change and korus for the new life together, with a tiki hand for protection.
A stylized hammerhead shark motif near the tail represents determination and tenacity.
The two chasing birds represent David and his wife, and they symbolize they´ll always be there to help each other..
Here´s an alternative with Mesoamerican influences: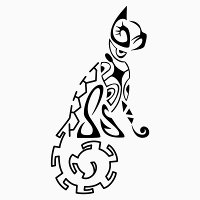 permalink: //www.tattootribes.com/index.php?idinfo=3765
WANNA KNOW MORE ABOUT THE SYMBOLS?
We have a site for that!
CHECK IT OUT >
And download the
FREE printable PDF cards of the symbols

!